The marketing automation industry has skyrocketed from a $500m market to an expected $5.5bn in 2019 in four years. According to Salesforce's State of Marketing Report, 67% of marketing leaders are already using at least one marketing automation platform and a further 21% planned to start using one in 2019.
At the same time, the list of marketing automation tools continues to grow with new tools hitting the scene every year, making it harder than ever to find the right platform for you.
Despite an endless variety of marketing automation services to choose from, I'm going to focus on five of the most popular & highly-rated services for SMEs:
ActiveCampaign
Hubspot
Ontraport
SendinBlue
Wigzo
The Pros and Cons of Marketing Automation software providers
In this section, I've written a quick summary of the main pros and cons of each of the aforementioned marketing automation providers.
I've kept the reviews relatively short so that you can skim over the pros and cons.
Venture Harbour has grown by 330% in the past year – and we owe a lot of that growth to ActiveCampaign. I've already written about 20+ ways ActiveCampaign has enabled us to systemize our business so at risk of repeating myself.
But if you just want the overview of why ActiveCampaign is awesome, here goes:
1. Affordable – ActiveCampaign starts at $9/month and remains reasonably priced as you grow your contact list. There are no mandatory training packages or hidden costs. They were also one of the first marketing automation tools to offer a (good) solution under $100/month. Since then, other tools have had to reduce their pricing to keep up.
2. Innovative – I've been using ActiveCampaign for over three years now, and the product just keeps getting better. This year alone, ActiveCampaign released a site messaging tool, a chrome plugin, a marketing attribution tool, A/B testing within automation sequences, and a handful of other extremely useful upgrades.
3. It's stable – when I speak to friends using other marketing automation tools they're often quick to complain about email deliverability, buggy interfaces, and downtime. As an ActiveCampaign user, I struggle to relate.
4. Intuitive – The visual campaign builder is extremely user-friendly, to the point that I've had staff build complex marketing automation campaigns with no prior experience or training.
5. Responsive support – I've probably contacted ActiveCampaign's customer support team less than five times over the past three years (not bad given that we use it daily) and they're always genuinely helpful and quick to respond.
Let's not kid ourselves, Hubspot is over-hyped.
Pretty much everything that Hubspot offers can be found elsewhere at a much lower cost. And yes, while it is true that Hubspot does offer a free version of their software, this doesn't include any of their marketing automation features. If you're looking to use Hubspot for marketing automation, you'll need to cough up at least $800/month (paid annually), plus an additional $3,000 in onboarding fees. In other words, if your marketing automation budget is below $12,600/year, you may want to move on to our next suggestion.
But to give credit where it's due, their software is really intuitive and easy to get the hang of, which for a non-technical small business can make all of the difference. The analytics are incredibly good, which makes it dead easy for business owners to know what's working and what's not.
I can see how many small businesses would be impressed with their offering, but it would be remiss not to point out the fact that Hubspot's pricing can get expensive as you grow.
Hubspot charges onboarding fees in the $3,000 – $6,000 range for professional and enterprise customers (these are the only plans that include marketing automation), on top of a typical monthly cost between $800 – $2,500.
If it were me, I'd take this money and instead spend it on ActiveCampaign, which is a significantly more advanced marketing automation platform. With what's leftover, you could get a pro subscription to a good piece of SEO software like SEMrush or Deepcrawl, and do some training on Google Analytics.
I might be missing something, but based on demoing their software it does seem like an over-priced piece of software, but for many small businesses it does exactly what it should – enables them to grow faster.
Ontraport is a bit of an underdog in the marketing automation space.
I first heard about them from a friend at Mindvalley, who mentioned that they were using Ontraport, and were really pleased with it. Mindvalley is pretty awesome when it comes to automated marketing, so this was a big tick.
After that, I began hearing about Ontraport everywhere.
What was really interesting was the diverse range of people who I was hearing about them from. From entrepreneurs turning over a few hundred thousand to $50m companies with 200 staff, everyone seemed to say good things about Ontraport.
My first thought was how easy Ontraport was to get started with compared to another marketing automation company I had just tried. Recurring payments were to set up. There was no initial training cost, and you could sign up as a customer directly from their website. On top of this, everything was split testable without needing a strange workaround.
I wasn't a huge fan of the Ontraport reporting dashboard, which is just a panel of KPI metrics. Personally, I'd much rather a more visual layout with fewer, more important, metrics displayed over time.
Ontraport's sequence builder is really good, although not quite as fun to play with as ActiveCampaign's visual campaign builder. That said, it integrates way better with WordPress, Facebook, Google Adwords, and other platforms.
One final touch which is really cool is the ability to automate SMS messages and postcards from Ontraport. I'd love to experiment with this in more detail to see how SMS messages and sending postcards in the mail influence customer behavior, but it would certainly help with standing out from the crowd.
Out of all the tools reviewed, Ontraport is probably my second favorite behind ActiveCampaign.
While it may not be one of the most affordable marketing automation tools, it is highly scalable and their pricing doesn't increase too much as your list size grows.
SendinBlue first became highly-regarded as an underdog in the world of transactional email tools before they began to make waves with their marketing automation product in 2015-2016.
Granted, SendinBlue's visual marketing automation builder may not be as beautiful as ActiveCampaign's, but it's no less powerful. In fact, SendinBlue's automation builder is so free of bells and whistles that it's actually quite refreshing to use after using some of the tools that require contacting support or reading documentation just to complete basic tasks.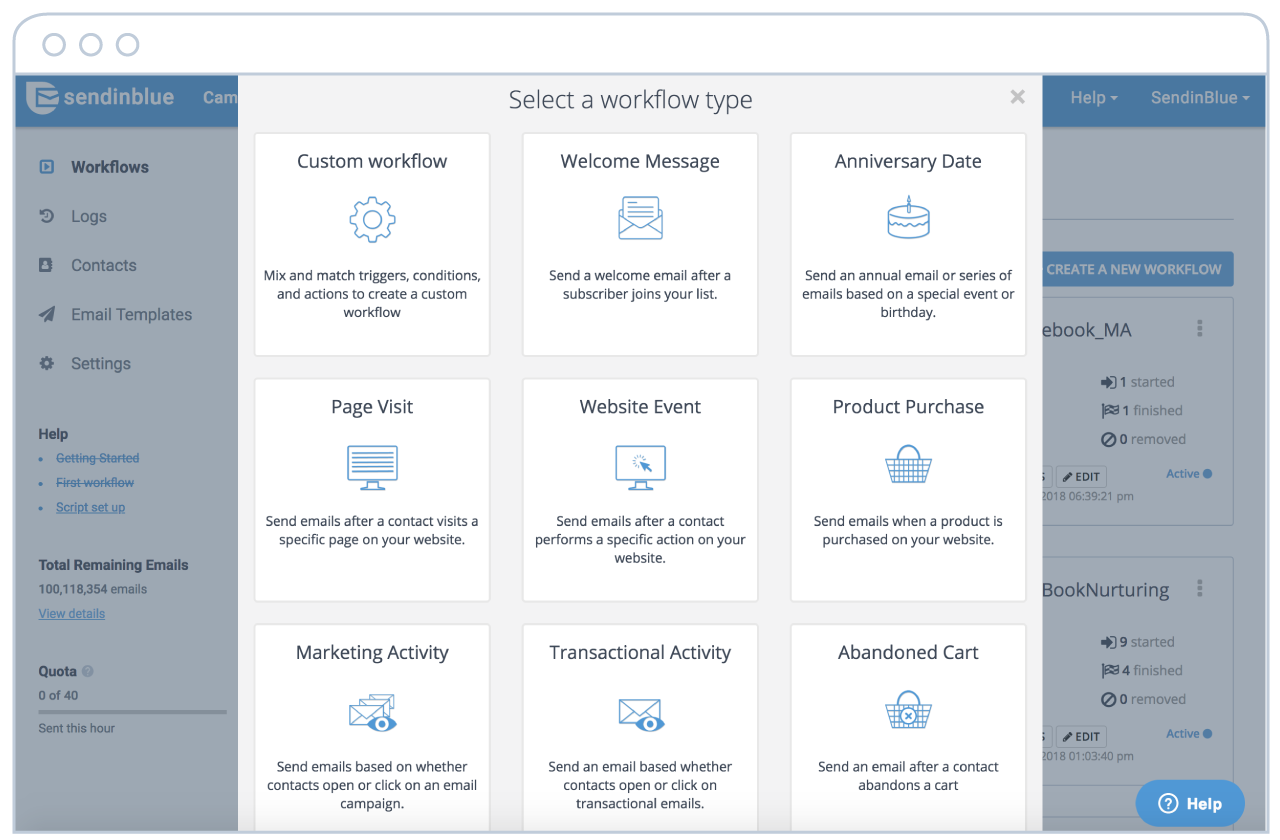 So, what are the downsides?
1. Pricing – While SendinBlue is one of the most affordable email marketing tools currently available, you'll need to be on their $49/month plan or above to access unlimited automation workflows. While not a major issue, this tends to rule out SendinBlue for me when recommending a marketing automation tool to a small business that's new to automation. After all, ActiveCampaign starts at $9!
2. Deliverability – Deliverability is always a hot topic, and I'm aware there are a million caveats at play here. That said, several notable studies on the topic have turned out quite unfavorably for SendinBlue. Fortunately, we actually use SendinBlue for one of our ventures and I can confirm that our deliverability rates are nowhere near as low as indicated in suggested in the linked article, but equally, they're not the best I've seen.
3. Sending limits – My biggest pet peeve with SendinBlue is the limits they impose on how many emails you can send. Unlike most marketing automation tools that limit the number of contacts you have, SendinBlue limits the number of emails you can send. While it appears to be a monthly limit, it's actually a daily limit (the monthly limit is divided by 30). This has caused us several issues when going over our quota has meant emails end up being put on hold until the next day.
With that said, we still use SendinBlue to this day and consider it to be a good, stable, and relatively simple marketing automation tool. Being a French company, SendinBlue was one of the first marketing automation companies to declare GDPR compliance, and their history in transactional email has meant that they've been able to offer many marketing automation features that are difficult to find elsewhere, such as SMS messaging and real-time deliverability reporting.
Wigzo is the only customer experience solution offering automation, personalization, analytics, and adverts specialized for eCommerce.
Features
1. Omnichannel – When your customers receive the same experience and messaging on every marketing channel, your brand becomes familiar and the relationship is strengthened. Wigzo gives you the power to create unified – and personalized – campaigns for all your users.
2. Push Notifications – Send personalized and media-rich push notifications to encourage app users to interact with your brand.
3. Email Personalization – Transmit targeted email marketing campaigns to engage users outside your app.
4. In-app Messaging – Deliver relevant and timely in-app notifications based on user identity and real-time behavior within your app
5. Personalization – Automatically trigger personalized emails and push notifications to reach customers at the most critical moments
Wigzo is an all in one Marketing Automation suite where you can manage all of your automation, personalization, and Ads in one place.
Wigzo provides hundreds of insights across performance, product sales, customers, inventory and more. Instantly measure metrics like customer lifetime value, gross margin, net profit and more, and create and automate high-quality eCommerce analytics.